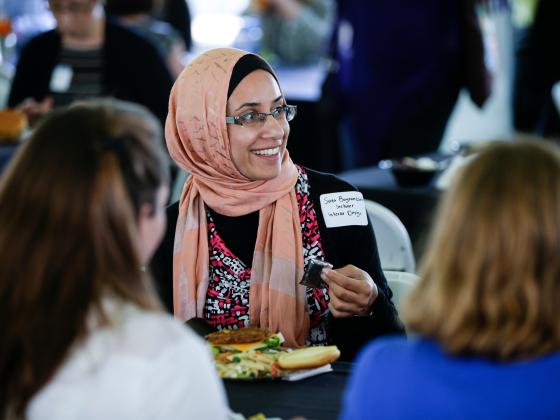 Frequently Asked Questions
What is a QEP?
The Quality Enhancement Plan (QEP) is a part of the SACSCOC reaffirmation process that reflects and affirms our commitment to higher education and to focusing attention on student learning.
The QEP document is a document developed by the institution that (1) includes a process identifying key issues emerging from institutional assessment, (2) focuses on learning outcomes and/or the environment supporting student learning and accomplishing the mission of the institution, (3) demonstrates institutional capability for the initiation, implementation, and completion of the QEP, (4) includes broad-based involvement of institutional constituencies in the development and proposed implementation of the QEP and (5) identifies goals and a plan to assess their achievement.
Who is responsible for developing this QEP?
A diverse group of faculty, staff, students and community partners provided broad campus input as part of a QEP Development Committee. That committee produced ideas for learning outcomes, activities, resources and assessments for TEK.
What is UK's new QEP?
Transdisciplinary Educational approaches to advance Kentucky (TEK) will provide opportunities for students to obtain employability skills through real-world learning and active engagement in transdisciplinary environments. Students will learn through transdisciplinary courses, leverage the expertise of the campus community and link with community partners to align their transdisciplinary skills with Kentucky workforce needs. Simply, TEK, UK's QEP, is our promise to prepare our students for success.
How did UK select this topic as the QEP?
A leadership team conducted a listening tour across campus seeking potential ideas for a QEP. The team collected more than 200 ideas. Based on an analysis of how the ideas aligned with UK's strategic plan, the team presented five potential topics to President Eli Capilouto. President Capilouto shared the potential topics with the campus community and asked for input. A community survey was administered, institutional data were examined and additional input was gathered from faculty leaders.  
When does SACSCOC approve the QEP?
In March 2023, the QEP team will present TEK to a committee of SACSCOC reviewers.
Why is TEK so important?
We know the most profound solutions to society's most complex problems often are found through the collaboration of disciplines, or a transdisciplinary approach to education, research and service. TEK, our QEP, helps our students today and Kentucky's workforce tomorrow.  To do this, students are working with experts from disciplines across the institution and community — in areas such as business, humanities, and math and natural science — to solve Kentucky's biggest problems while gaining essential workforce skills.  
Why is accreditation important?
Accreditation ensures our eligibility for federal grants and contracts as well as student financial aid funds. 
What was our previous QEP?
During our last accreditation process, our QEP resulted in Presentation U, an effort across the campus to support the development of the communication skills all our students will need to be successful here and in the world they will enter following graduation. From that planning process, among other things, a centralized tutoring center was established to assist students in the development of those skills. Presentation U remains an important resource to our students today.  
What is the difference between multidisciplinary and transdisciplinary?
We often use the idea of working across and among disciplines and fields – what are often called multidisciplinary approaches – to ask and examine big questions. In such an approach, people come together to collaborate after much planning has already been done. A transdisciplinary approach, on the other hand, is more powerful. It involves coming together early by first identifying the key questions. A shared conceptual framework is utilized to create new approaches to address a common problem.